No need to feel alone! There are many great groups and organizations.
Receiving a diagnosis of Adrenal Insufficiency for you or your loved one can overwhelming. Although we are sorry for the circumstance that brought you to this place we want to welcome you to our AI Family. We hope to make this journey you have just begun easier by providing both support and education. This page will give some suggestions as you begin to learn more about adrenal insufficiency. 
FB Support groups run by AIU
All our FB groups include membership questions that must be answered. 
We do NOT allow the discussion of supplements, herbs, special diets etc. to treat or cure adrenal insufficiency. 
Selling and/or personal fundraising is NOT allowed.

This is our largest group and is made up of adults with adrenal insufficiency and parents of MINOR children with adrenal insufficiency. Those who are not in one of these categories must have permission from the adult with adrenal insufficiency to join.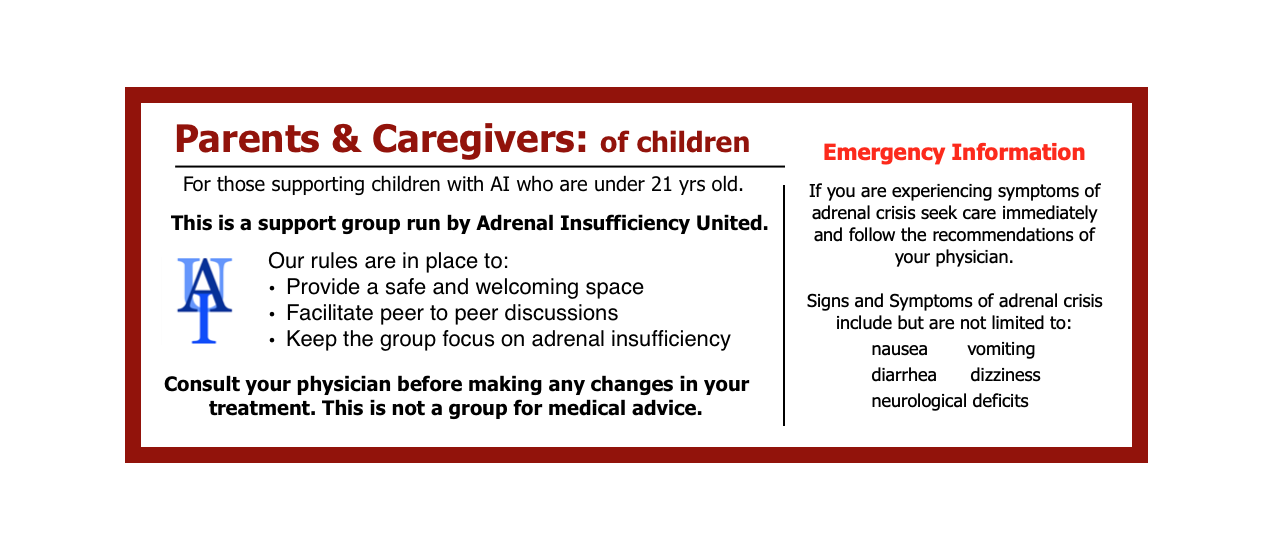 If you have a minor child living at home this is a great group for you.
We welcome grandparents or other caregivers of children as well.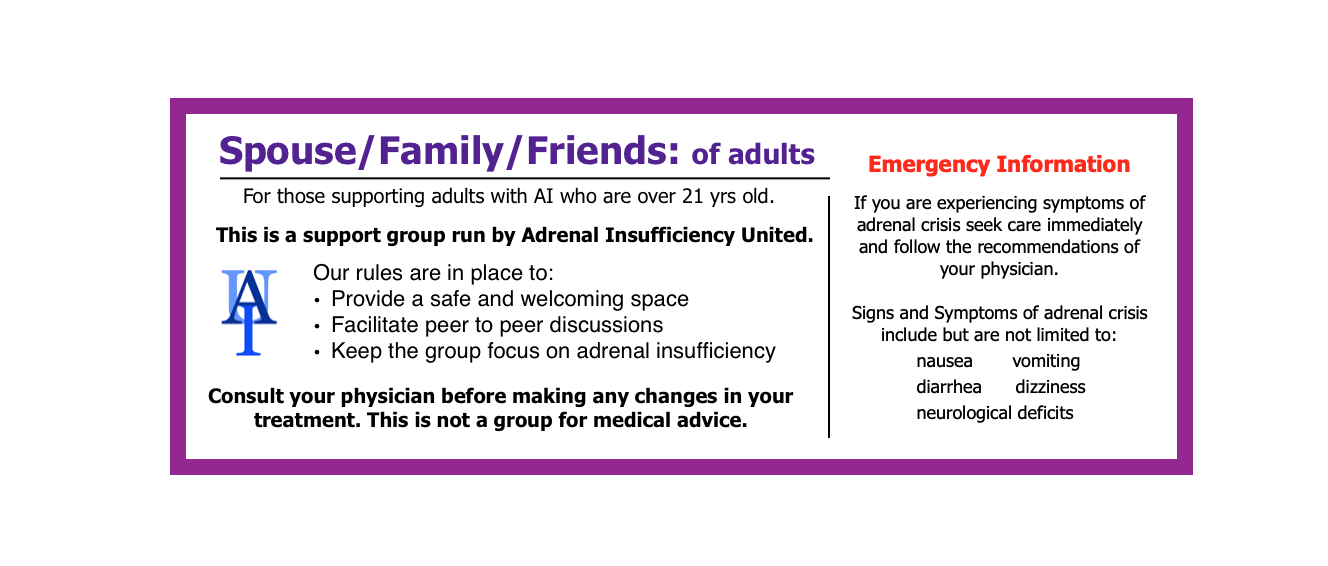 If you are a spouse, partner, family member, caregiver, or friend to an ADULT with adrenal insufficiency you may ask to join this group.

AIU does not have any expertise in this area, but provides this platform for discussion and the sharing of ideas. To join you must have a diagnosis of adrenal insufficiency or have a child with the diagnosis .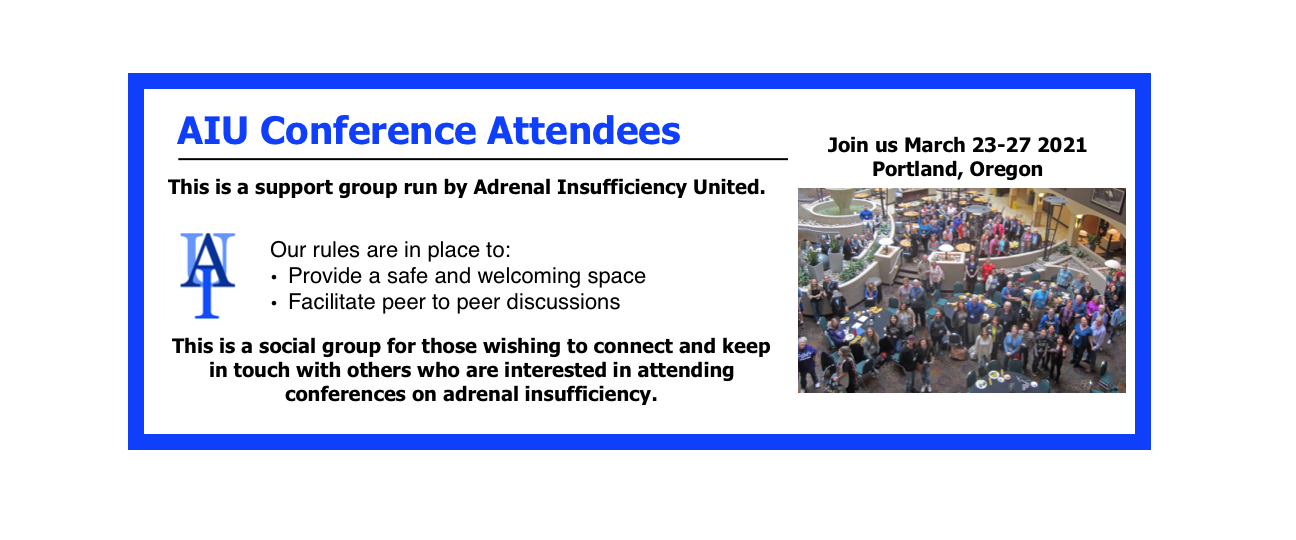 Interested in attending a conference? Join this group to keep up to date on our plans.
FB support groups run by other organizations or individuals
Contact us if you would like your organization's website or a personal blog added. All we ask that you site Adrenal Insufficiency United as a resource on your website or blog as well.
The NADF has several groups around the USA who have face:face support groups. Keep up with their calendar to see what's going on in your area.
If you want to plan a get together in your area please contact us. NADF and AIU are happy to help you get started.
Opportunities to find new friends in your community. These suggestions are meant to jump start your imagination. In any size community, there are ways to connect with others. Even small interactions can help ease feelings of isolation. For example, a trip to the grocery store can become a social event by saying hello to other shoppers, the person ringing up your order, and the one carrying it to the car for you. Your friendly greeting may be just what they need.

Senior Centers; these are often sponsored by local civic governments, and offer a variety of programs, such as gentle exercise, crafts, games, speakers, outings, etc. Many offer transportation services.
Community Recreation Centers have regular events. During the summer activities in the park can be a good excuse to sit and people watch or make new friends.
Libraries; many programs run during the day are attended by retired people or folks who are unable to work for a variety of reasons.
Arts Organizations and Guilds; these can be a source for making new friends and developing new interests; many are happy to accept beginners as new members.
Education Institutions; Universities and Colleges offer a variety of courses that can be attended in person or enjoyed online; some have discounted fees, or are offered free to seniors. Informal classes can be a great way for single people to meet others with the same interests.
Faith-based groups; churches have social events, study groups, and other ways to connect through mutual beliefs.
Doctors' Offices often post notices and brochures advertising local health-based support.
Some hospitals run support groups for various health issues.