Receiving a diagnosis of Adrenal Insufficiency for you or your loved one can overwhelming. Although we are sorry for the circumstance that brought you to this place we want to welcome you to our AI Family. We hope to make this journey you have just begun easier by providing both support and education. This page will give some suggestions as you begin to learn more about adrenal insufficiency. 
DON'T KEEP YOUR DOCTOR IN THE DARK
Report any changes in your health. Let your doctor know if you are not feeling better once treatment for adrenal insufficiency has begun. Be sure to write down any questions before your appointments so you don't forget to ask. Your physician won't be able to help you if they are unaware you are struggling.
Ask about stress dosing: when experiencing an illness, injury, surgery, and for some, extreme emotional stress, extra medication is needed. NIH has SickDay guidelines be sure to go over these with your doctor as each person is different.
Ask for an emergency letter: Carry it with you at all times so emergency medical personnel know how to help. The letter should describes YOUR condition and medications.
NEVER use social media or the internet (including this website) as your physician. Instead, use these platforms to learn and gain support so you can be discussing your treatment plan with your physician. 
Many patients with adrenal insufficiency (lack of cortisol) also lack Aldosterone. This is often called SALT WASTING. For those affected hot weather and exercise can contribute to dehydration and it is important to replace your fluids and electrolytes. Discuss your particular electrolyte needs with your doctor to supplement appropriately. Not everyone needs these replacements.                                                         
Be sure to visit our Emergency Instructions page to learn what to do and how to prepare yourself in case of an adrenal crisis.
In case of an adrenal crisis follow the instructions of your physician.
Use the emergency medication prescribed by your physician.
Call your emergency services: e.g. 911, 000, etc. Tell them that you are experiencing an adrenal crisis and require a paramedic.
Unlock your front door in case you fall unconscious or are unable to open the door for paramedis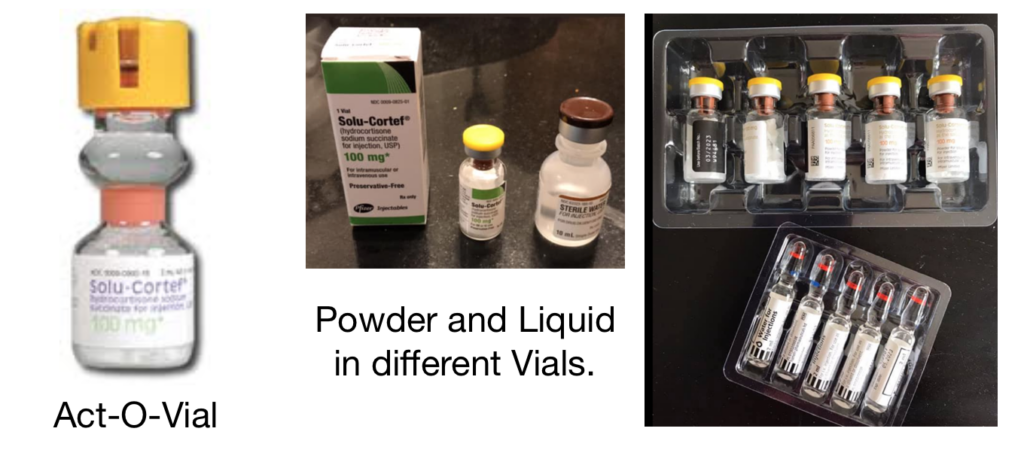 Be sure to get a prescription for Solu-Cortef® or another emergency injection, then ask for training on how to use it:  It's best to have more than one vial on hand. Keep one at work, at school, with each parent, etc.  
Depending on where you live and what is prescribed your emergency injection may look different. While most in our groups prefer the act-o-vial (on the left) as both liquid and powder are in one container some prefer to have the powder and liquid separate as shown in the middle. 
LOOK AT THE VIAL before leaving the pharmacy to make sure it's the right one. If you are given one with powder only you must ask for the liquid to mix it with or it will be useless. The act-o-vial lid may be a different color depending on the amount; 100 mg vials are normally have a yellow top.
While not as common, some with adrenal insufficiency are prescribed dexamethasone injections. These will be in a prefilled syringe. Be aware that DEX does not contain mineralocorticoids needed by those with salt-wasting adrenal insufficiency. 
Some physicians may feel you do not need this emergency injection. They may assume you can get to the hospital or have an emergency medical worker administer it. Unfortunately, in many areas this is not the case and protocols are not in place to allow the administration of the medication. The National Institutes of Health recommends that all with adrenal insufficiency carry their own medication.
Join one of our support groups
All our FB groups include membership questions that must be answered. We do NOT allow the discussion of supplements, herbs, special diets etc. to treat or cure adrenal insufficiency. Selling and/or personal fundraising is NOT allowed.


adrenal insufficiency Support
This is our largest group and is made up of adults with adrenal insufficiency and parents of MINOR children with adrenal insufficiency. Those who are not in one of these categories must have permission from the adult with adrenal insufficiency to join.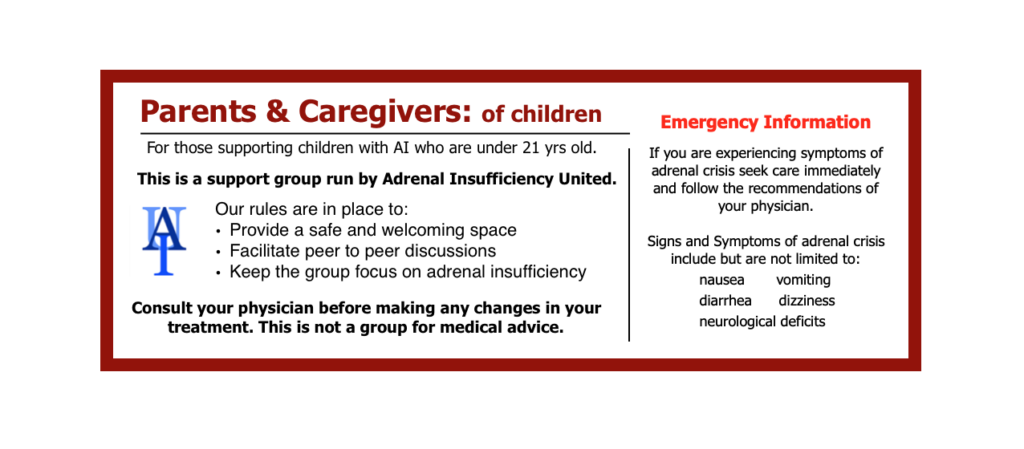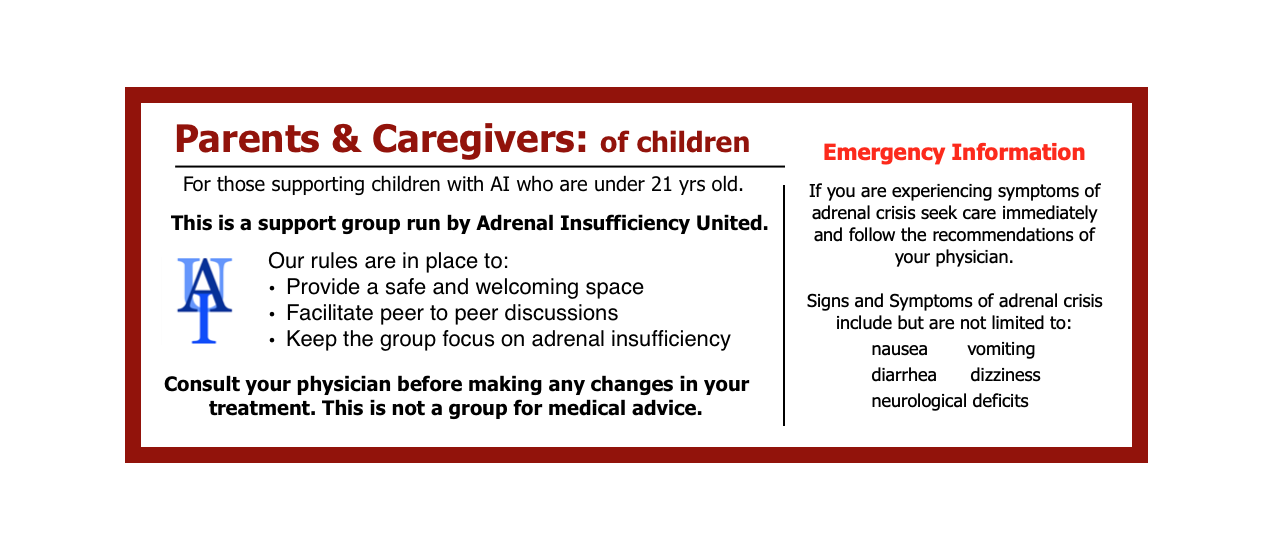 Parent/Guardians
If you have a child who needs you to manage their adrenal insufficiency for them this is a great group for you. We welcome grandparents or other caregivers of children as well.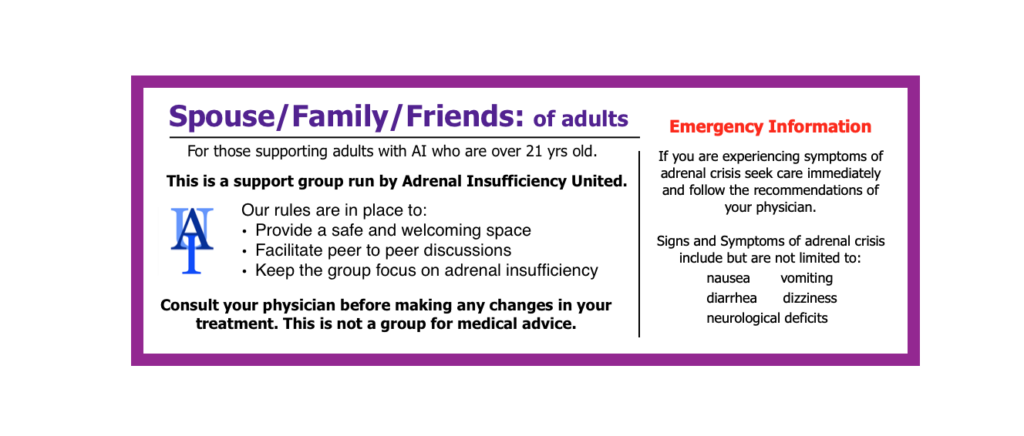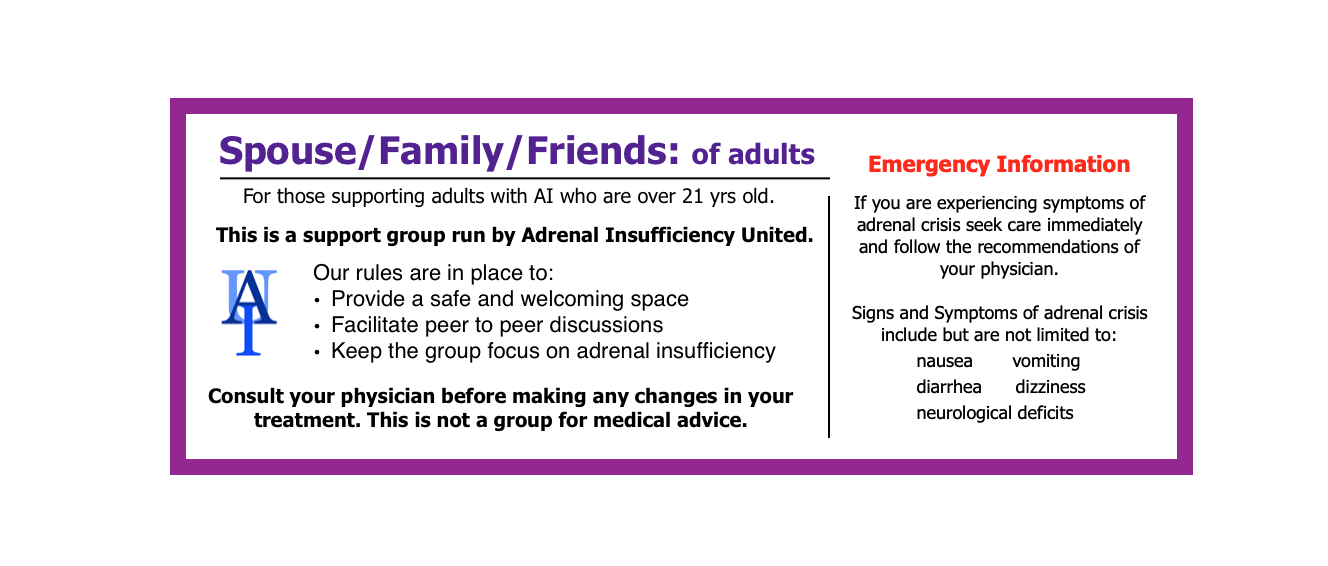 Those who support adults
If you are a spouse, partner, family member, caregiver, or friend to an ADULT with adrenal insufficiency you may ask to join this group.
Service dogs
AIU does not have any expertise in this area, but provides this platform for discussion and the sharing of ideas. To join you must have a diagnosis of adrenal insufficiency or have a child with the diagnosis .